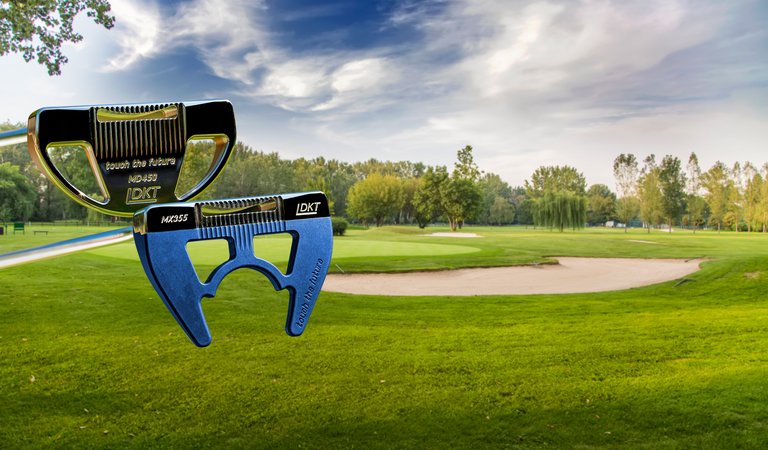 Highpremium Putter
100 % made in Germany
Innovation - DKT Putter
Convinces even golf pros
Genuine colour diversity
Just the way you like it
As individual as your game
One putter in 500 variations
MODULAR & INDIVIDUAL
DKT putter - for the decisive stroke less
Once you have found your optimal putter, you will never give it back! Unless there is a better one.
And this is exactly what we have developed for you!
HAVE YOUR DKT-PUTTER CONFIGURED
A PUTTER AS INDIVIDUAL AS YOUR PLAY
The ideal putter must fit your hand well. It must not be too light and not too heavy, not too short or too long. And, of course, you must like it.
This is why DKT putters are as individual as your play! Our putter-fitters will help you to put together the DKT putter which suits your individual needs.
FAQ
Frequently asked questions
WHAT'S SO SPECIAL ABOUT THE HIGHPREMIUM DKT PUTTER?
The DKT putter is manufactured and assembled from the highest quality of materials 100% in Germany in our manufactory. There are 500 possibilities to configure a DKT putter for you. From shape, to material, to colour, weight and grip, everything is selectable, so that in the end you have exactly the putter in your hands that suits you and your stroke ... for the decisive stroke less.​​​​​​​
WHERE CAN I BUY A DKT-PUTTER?
On the page dealers you will find our distribution partners. You can have your personal putter adjusted and configured on site. The DKT putter is configured especially for you by a specialized DKT putterfitter. You will be measured, questioned and advised in order to put together the optimal putting putter for you. Do you have further questions? Get in contact with us!
WHAT MATERIAL IS THE DKT-PUTTER MADE OF?
DKT putters are made of the highest quality titanium-calibrated materials from the aerospace industry and, depending on the model, of aluminium and stainless steel. Various surface treatments such as polishing (shiny), glass bead blasting (silk matt) and coloured anodising round off your unique product.
WHICH DKT-PUTTER IS BEST SUITED FOR ME?
This depends on several factors, such as your stroke technique, your size and also your personal taste. Your putter-fitter will help you to configure the right putter for you.
CAN YOU PLAY DKT-PUTTER AT OFFICIAL TOURNAMENTS?
Yes, all DKT putters are manufactured and certified according to the official golf rules of the R&A.
SUSTAINABILITY IS IMPORTANT TO US
Our packaging is 100% recyclable
We have given a lot of thought to the packaging of our DKT putter in advance. The topic of "sustainability" was the top priority for us.
So we decided on a 100% recyclable packaging which optimally protects our putters during shipping, is light and environmentally friendly to dispose of, and yet convinces with simple elegance.